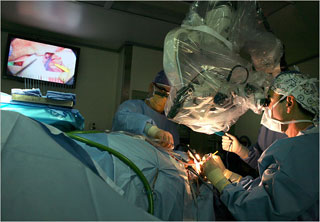 Apex Arachnoid Knives™ are four incredibly sharp, delicate, stainless steel blades with six accompanying feather-light, rigid Ultem® handles available pre-assembled in a sterile, single-use package. Features include:
Double Bevel Blades for Incredible Sharpness
Feather-Light, Rigid Handles for Optimum Tactile Feedback with a High Flex Modulus
Hydrophilic Coating for Minimum Tissue Drag
Non-Glare Finish for Better Visibility
Perfect Cutting Edge for Steady, Even Performance
Ultra-Thin Blades for Extremely Precise Dissection
Pre-Assembled Packaging for Convenience and Speed

Circular Knife
Developing Planes: Facilitates the flow of an operation by permitting the transition from sharp to blunt dissection.

Penetrator Knife
Pinpoint Precision: Permits meticulous pinpoint dissection in areas where no tension is permissible.

BackCutting Knife
Safe Precise Dissection: Slim profile with safe edge allows for safety and precision in tight areas.

SideCutting Knife
Safe Dissection Over Critical Areas: Dissect with confidence over the most critical and delicate structures.